this memorial website was created in the loving memory of our Little Angel Kayla Evelyn Symonds-Poynton who Was born an angel December 20th 2006. She was 3.5kgs (8lbs 4oz) and 53cm long.
Through out the whole 9 months she was a healthy little girl, it was the perfect pregnancy untill God thought he needed her more then us. We will never understand why he took her away from us, the people who made her out of love, that wanted her more then anything in this world.
We love u always Kayla... Mummy, Daddy and ur proud big sister Liana.

Kayla is now a BIG sister to Emalee Hope, She was born on the 25th Jan 2008.. I cant thank Kayla enough for the precious life of her baby sister. Emalee is our miracle and our special gift from Kayla... Kayla baby, Emalee will always know who you are and how special she is to have you watching over her and keeping her safe.
Kayla once again brought her brother safely into our lives on the 28th July 2010. Im sure he has met her already but we cant wait to tell him all about her.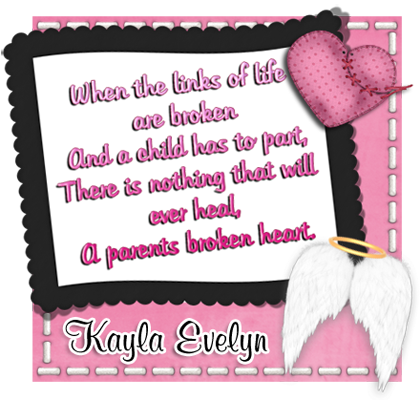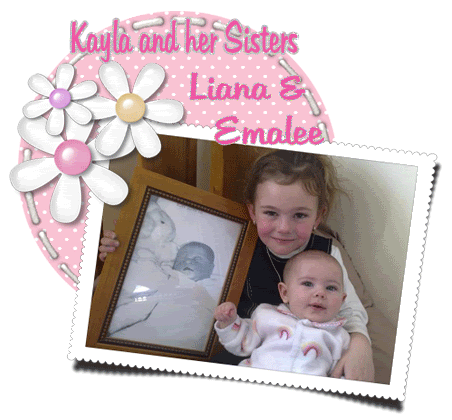 My Kayla

IM SORRY MY KAYLA FOR NOT KEEPING U SAFE,
IN MY WOMB WAS MENT TO BE A PEACEFUL PLACE.
THIS IS WHAT I REALLY CANT BARE,
DISCOMFORT AND DEATH IS WHAT HAPPENED IN THERE.

MY DREAMS FOR YOU WERE SHATTERED THAT DAY,
THE DAY HE DECIDED TO TAKE YOU AWAY.
I REALLY DONT THINK I COULD EVER FORGIVE,
"WHY GOD PLEASE EXPLAIN, WAS IT SOMETHING I DID?"

IM A GOOD MUM I LIVE FOR MY KIDS,
BUT WHY, I ASK I DID NOT DESERVE THIS.
KAYLA MY DEAR UR THE ANGEL I MISS,
FOR YOU TO BE HOME IS MY ONLY TRUE WISH.

U'D BE SO HAPPY HERE WITH MUMMY AND DAD,
UR BIG SISTER LIANA WOULD OF BEEN THE BEST THAT U HAD.
I'LL NEVER FORGET UR BEAUTIFUL LITTLE FACE,
EVERYTHING WAS PERFECT, SO PERFECT IN PLACE.

U WERE MY LITTLE GIRL SO PRETTY IN PINK,
THE PRETTIEST PRINCESS AROUND I THINK.
LIANA ASKS WHERE R U EVERYDAY,
"IN HEAVEN FOREVER, AND THATS WERE SHE'LL STAY.

"I LOVE HER MUMMY, I LOVE HER SO MUCH",
"I WISH I HAD JUST ONE SINGLE TOUCH".
I CANT HANDLE THIS THERE IS TOO MUCH PAIN,
I'LL COUNT DOWN THE DAYS TILL WERE TOGETHER AGAIN.

KEEP SHINING UR STAR THAT WILL SHINE EVERY NIGHT,
AND I NO IN TIME I JUST MIGHT BE ALL RIGHT.
KAYLA MY ANGEL PLEASE HELP US GET STRONG,
UR LOVE IS WHAT WE NEED TO PUSH US ALONG.

THE NINE MONTHS WE SHARED WHEN IT WAS JUST U AND ME,
I'LL CHERISH FOREVER AND ALL OF ETERNITY.
THE DAY WILL COME I PROMISE U THIS,
WE'LL SHARE TOGETHER OUR FIRST ANGEL KISS.

WE'LL DO MOTHER AND DAUGHTER THINGS ALL DAY LONG,
AND BACK WITH UR MUMMY IS WERE U BELONG.
I LOVE U MY KAYLA DONT EVER FORGET,
REST IN PEACE MY BABY, MY LITTLE PRINCESS.

Written by Jeda Symonds-Poynton 11/1/07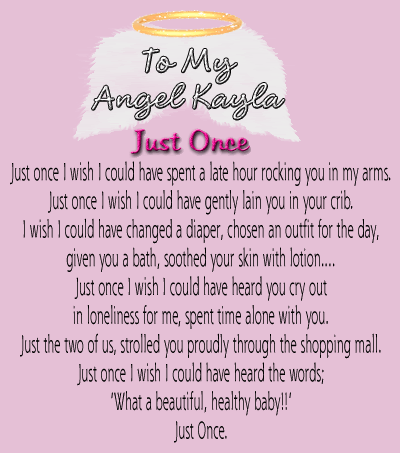 FOR AMANDA MY MIDWIFE!!
THANK YOU IS JUST NOT ENOUGH!!

"Thank you" Amanda is just not enough
For what u did for us we owe u so much
You were my strength my heart and soul that night
And told me everything was going to be all right

We could see the sadness and love in your eyes
And how bad u felt when u couldn't answer our whys?
Kayla sent u 2 us to help us get by
Cos she new her mummy needed the best by her side

The pain we have is still Oh so real
It just seems like these wounds will never heal
You were there to wipe away all our tears
And I no u shared and felt all our fears

I no u loved Kayla in your own special way
And ill ask her 2 watch over u day by day
She'll watch over u as she watches over us
And every breeze that u feel just no it's her touch

You r truly an angel down here on earth
And my Kayla an angel in heaven from the day I gave birth
U helped me deliver my precious little one
As we new her life was over before it begun

Please Amanda don't forget what u do mean 2 us
We only knew u a day but we love u so much
I will think of u every single day
Cos u have touched my life in a very special way

So keep doing what u no and what u do best
And deliver those babies and lay them on their mummy's chest
There's not much more I feel I can say
But no in my heart forever you will stay!!

So thank u Amanda is just not enough
For what u did for us we owe u so much..
written by jeda, kaylas mummy on 23/02/2007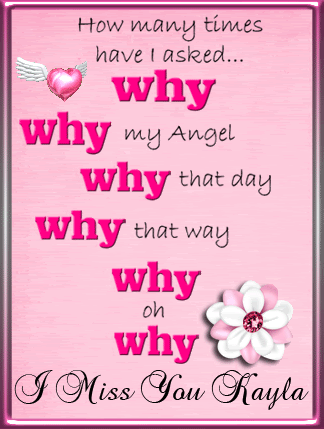 I LOVE U LITTLE SISTER

How do you love a person
Who never got to be,
Or try again to see a face
You never got to see?

How do you mourn the death of one
Who never got to live,
When there's nothing to feel good about
And nothing to forgive?

I love you, little sister.
You're a person of the wind,
Free to be the memory
Of all that might have been.

I love you, little sister,
My companion of the night,
Wandering through my lonely hours,
Beautiful and bright.

What does it mean to die before
You ever can be born,
To live the lovely night of life
And never see the dawn?

Ah! My little sister,
You lived like anyone!
Life's a burst of joy and pain,
And then, like yours, it's done.

I love you, little sister,
Just as if you'd lived for years.
No more, no less, I think of you,
The angel of my tears.


Precious Sister

Sometimes I still hear the sound of your voice.
I wish you were still here with me, but you had no choice. I know an Angel held you as your body said goodbye.
But that doesn't stop my heart from breaking.....
........"I miss you and I cry".

No one can believe that you are really gone,
Our hearts are broken and our spirits moan.
"She was to young", I've heard people say,
"Why did she, have to die this way?"
I try not to be angry, I kneel and I pray,
Asking God to be with us, as we face each day.

I always try to give Mum an extra kiss,
To make up for a little girl, she will always miss.
I understand everyone's emptiness and their sorrow too,
Because, "My precious sister..... we all miss you".
I know you are happy in Heaven above,
Surrounded by the Angels and all their love.

But today on earth, my heart still grieves,
Because you are no longer here to talk with me".
I will look toward Heaven, for I know I will see
A Star that will suddenly glow big and bright,
It will be my sister smiling....
..... and watching over me.


WE LOVE YOU OUR ANGEL SISTER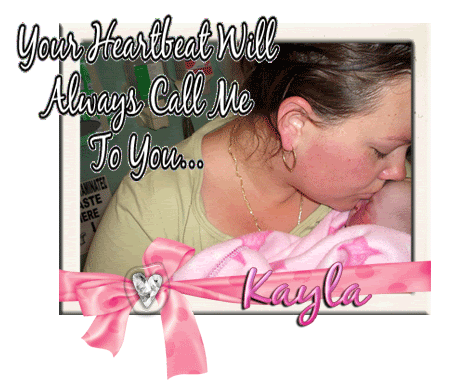 "How anxious I was for the pregancy to be over. How impaitient I was for each day to pass. Little did I know that those were the only days I would have with you. Why did I wish them away instead of cherishing each moment we had together?"
Remembering Kayla-Evelyn

There once was a girl, who meant so much to me,
even though her true beauty, i did not get to see.
She would have grown up, this most beautiful girl,
running and laughing, not a care in the world.

She's no longer with us, i am affraid,
but i guess that we must play, with the cards that are layed.
If there really is a god, then i give my applause,
for not taking this angel, without a purpose or a cause.

You see she's an angel, and for her was a plan,
so it's for this reason only, that i understand.
To break up a family, it didn't seem right,
but she'll be looking down all day and all night.

So she hasn't really left us, although it's how it seems,
but if it's true about those angels, her true beauty can't be seen.
She'll always be here in spirit, in our minds and in our hearts,
so think of this everyday, before the water starts.

'Cause crying doesn't bring her back, although it does help us to grieve,
but think of all these amazing things, now Kayla can achieve.
Yes it's Kayla, that i speak of, remember what i said,
she'll spend her free time looking down, on Liana, Anf and Jed.

She'll make sure that were happy, when she's looking down,
she'll be looking out for Nanny Mia, and Nanny and Pa Browne.
She'll see in our thoughts we remember, even though it was not long,
that she was loved by one big family, a family that is strong.

Yes we are a strong family, that's a bloody fact,
but how could we not be so strong, when Kayla's got our back.
R.I.P Baby Girl
In loving memory of Kayla-Evelyn Symonds-Poynton.

written by uncle eric "jock" woods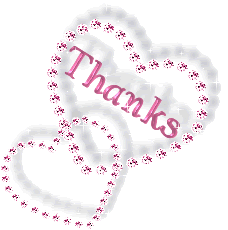 THANK YOU SO MUCH FOR VISTING MY ANGEL BABY
KAYLA!!!
PLEASE LIGHT A CANDLE SO WE KNOW U HAVE BEEN!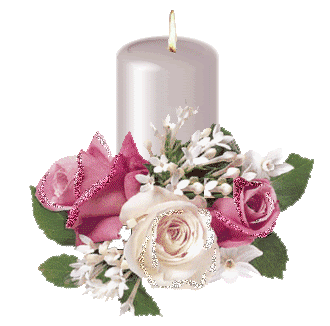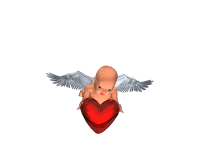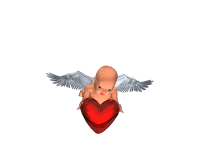 KAYLA HAS SPECIAL ANGEL FRIENDS WITH HER IN HEAVEN, PLEASE TAKE SOME TIME 2 HAVE A LOOK AT THESE BEAUTIFUL ANGELS!!!




www.angel-amelia.memory-of.commory-of.com
www.matthew-mcphail.memory-of.com
www.calum.memory-of.com
www.caseyjamesbaptist.memory-of.com
www.alysia-sinclair.memory-of.com
www.sophiagracedillon.memory-of.com
www.caydenjake-walker.memory-of.com
www.emily-connelly.memory-of.com
www.vanessa-barnai.memory-of.com
www.finlay-acton.memory-of.com
www.siobhan-bryantmillar.memory-of.com
www.stillborn-angels.memory-of.com